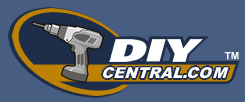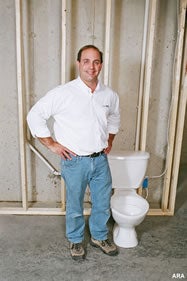 (ARA) – If a bathroom addition is on your project list, consider a Saniflo above-floor plumbing system — especially for a basement remodel or any other room where you don't have accessible, below-floor plumbing.
That's the advice of Mike Coletto, an independent plumbing, HVAC and electrical contractor in Illinois who has more than 15 years of residential plumbing experience. "Above-floor plumbing is a super alternative to conventional plumbing and a great problem-solver," he says. "The technology is ideal for tricky additions and makes installing a basement bathroom a snap."
Saniflo introduced "macerating," above-floor technology in Europe more than 50 years ago, but it's been available in the United States only since the late 1990s. With this unique plumbing system, you can skip the mess and high cost of plumbing renovation, and install a spare bath anywhere you choose — even below the sewage line — without pounding through concrete. The fixtures can be installed right on top of finished floors: in a basement, attic, garage or even inside a closet or a spare bedroom.
Coletto comments on his top reasons for recommending Saniflo:
* Flexibility – "Above-floor plumbing can go where traditional plumbing can't. My cus
tomers choose the location, rather than having construction dictate it. Since no digging is needed, it's even possible to add a temporary bathroom for a short-term sick room or in-law suite. It's a great value."
* High quality – "I like the way it can handle multiple fixtures, including the sink, tub-shower and toilet. And it can work up to 12 feet below and as far as 150 feet away from a septic tank or sewer line."
* Smart solution – "With conventional plumbing, I have to dig up concrete floors to install a drain. Instead of routing flush water through a floor drain, Saniflo plumbing moves it with a small pump housed inside a plastic box that is located behind the toilet (either in front of or behind the wall). Inside the box, a fast-rotating blade quickly liquefies waste and toilet paper, which is then released under pressure through small-diameter piping to the sewer or septic tank."
* Convenience – "No special maintenance is necessary. The macerating mechanism is sealed for life."
* Saves space – "It's a great choice for bathrooms installed in tight spaces, like underneath a stairway or inside a closet."
* Saves time and money – "Opening a hole in the concrete can add three days to a bathroom addition. Without all that digging, I can install a bathroom in about half a day. And my customers don't have to deal with jackhammers and the mess of blasting through floors."
For more information about Saniflo above-floor bathroom systems, contact Saniflo at (800) 571-8191. Or visit the Saniflo Web site at www.saniflo.com.
Courtesy of ARAcontent
Discuss this and other Home Improvement Topics in our How To Forum